"?"
A: Kralja Petra 6, Tel: 2635-421. Open: Mon-Sun. 8- 24. This old Serbian kafana with a peculiar name is located in one of the oldest preserved buildings in the city. Built in 1823, it opened as a kafana three years later. It still has an old wood stove for cooking beans and roasting potatoes, creaky wooden floors, low round tables and four-legged stools, and is worth visiting to experience the authentic 19 century ambiance. If you are really hungry, the lamb "pod sačem" should be OK. In summertime, there are more tables on the street and in the back. Map H6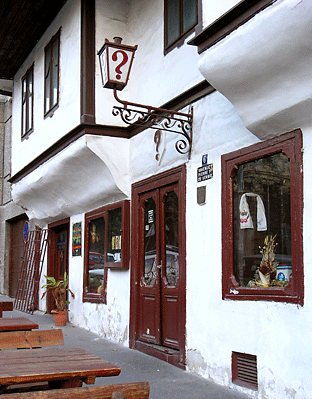 Caruso
A: Terazije 23 (8. sprat), Tel: 3248-037. Open: Mon- Sat. 8-24. Located on top of a building housing the Serbian Chamber of Commerce, it has a terrace with a picture postcard view of the city. To reach it, you need to find the unassuming entrance to the Chamber and take the elevator to the 8th floor. Be warned that men are required to wear long trousers, those casually attired in shorts or tracksuit bottoms will not be admitted. Food is quite good and reasonably priced for the ambience, and so are the local wines by the bottle. Try smoked trout with the side dish of Swiss chard and potato or Chef's fillet of beef. Be sure to book in advance if you want a table on the terrace.
Map H7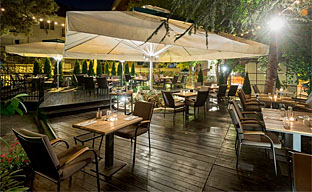 Đorđe
A: Moravska 10, Tel: 3441-422, restorandjordje.rs. Open: Mon-Sun. 12-24. A proper Belgrade restaurant which offers traditional Serbian fare with a modern twist, whilst preserving the quintessence of the particular dish and taking great care about the quality of the ingredients. The bread is made in-house, and so are the soup noodles and sausages. Pleasant ambience of a two-storey house with a large garden.
Map J10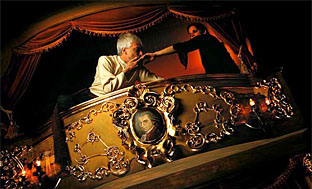 Little Bay
A: Dositijeva 9a, Tel: 3288-995. Open: Mon-Sun. 11- 01. Fine food in a glamorous, theatre-inspired décor, served to the sound of popular opera tunes. The servings come in rather small sizes, but the prices are quite fair and you could get a starter and a main course for the price of a single meal in another restaurant. The salmon fillet with creamy horseradish sauce costs less than 6 EUR and filo pastry parcel filled with duck with grilled vegetables and honey costs less than 7 EUR. Map H6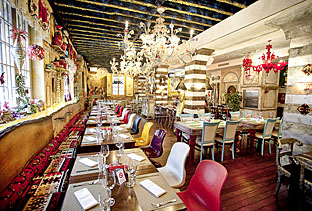 Lorenco & Kakalamba
A: Corner of Cvijićeva and Vladetina streets, Tel: 3295- 351, www.lk.rs. Open: Mon-Sun.12-24. A restaurant with a décor so extravagant that it is in itself an experience. Everything about this place is unique. The menu is a combination of south Serbian (Pirot area) and Italian fare and the food is surprisingly decent. Try Šušpe, sweet dry red peppers stuffed with spicy minced meat and cooked in a clay pot, lamb legs or sea bream baked in paper. Mapa K7

Čubura
A: Mačvanska 1 (Peyton Place), Tel: 2440-756. Open: Mon-Sun 8-23. One of the best grill restaurants in the city, this place is a must for all serious meat eaters. The interior is on the shabby side, but the vibe is friendly, and the place is always packed with locals and internationals brought together by their love of food. Do try rakia and the usual grill fare: ćevapi and ražnjići. If you like tulumba (fried batter soaked in sugar syrup) save some room for the dessert.Map J9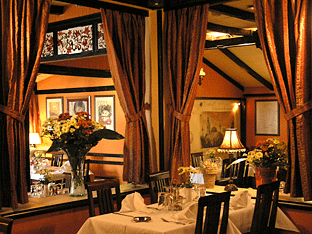 Tabor
A: Bulevar Kralja Aleksandra 348 corner with Gospodara Vučića Street), Tel: 2412-464. Open: Mon-Sat. 10-01h. Traditional kafana where you go for good food and above all for good atmosphere - there is a live band playing traditional Serbian music every evening from 9pm until closing - therefore it is wise to book in advance, particularly if you are having a large party. Be sure to try Pikantni krompir Tabor (baby potatoes rolled in bacon with white sauce), Čačanski uštipci (minced meat baked with kaymak and roasted red peppers) and quince rakia. Out of Map


Beton Hall Restaurants
A: Karađorđeva 2-4. Map G6
Tucked away in the refurbished old port warehouses on the Sava bank, just below the Belgrade fortress, there are several cool restaurants, lined up one after another, their gardens boasting a great view of the river and sunset. In fair weather, you will need a reservation to get an outdoor table, as quite a few Belgrade hedonists like to spend their evenings here.

Comunale
Tel: 3037-337. Open: Mon-Sun. 10-01. If you don't mind the occasionally absent-minded waiters, you can enjoy a view of the river, fairly good Italian cuisine and Aperol Spritz.
Sakura
Tel: 3284-988. Open: Mon-Sun. 12-01. An excellent cocktail and wine bar. Asian cuisine reinvented with a modern touch.
Iguana
Tel: 3283-749. Open: Mon-Sun. 10-02. Modern international cuisine. Expensive, classy, live jazz every evening after 7pm.
Toro Latin GastroBar
Tel: 3034-342. Open: Mon-Sun. 10-02. Latin American cuisine as interpreted by the owner, American Chef Richard Sandoval. Small portions for sharing.
Druga piazza
Tel: 3398-333. Open: Mon-Sun. 10-02. Pizza from wood-fired oven and good quality grilled meats.
Sofa
Tel: 4008-888. Open: Mon-Sun. 10-02. Italian cuisine, homemade pasta.
Cantina de Frida
Tel: 2181-107. Open: Mon-Sun. 10-02. Spanish cuisine, tapas and grill. Live music every evening, mostly Pop and Latino.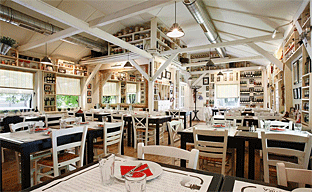 Mala fabrika ukusa
A: Nebojšina 49a, Tel:2435-727. Open: Mon-Sun. 9- 24.www.malafabrikaukusa.com. Serbian cuisine at its modern best in a wonderfully pleasant ambiance. There is a large summer terrace and a playground for children. Try grilled prunes stuffed with goat cheese and rolled in bacon (served on a Belgrade cobblestone), Gibanica (filo pie with cheese, kaymak and eggs), Janija (pork stew baked in the oven with parmesan crust) or shoulder of lamb in Marsala wine glaze. Map I10

Mićina domaća kujna
A: Prvomajska 108c (Zemun), Tel: 2610-365, Open: Mon-Sat.10-22.micinadomacakujna.com. Comfort food paradise. A kafana with truly scrumptious food, unpretentious interior and very reasonable prices. Your host and Chef will be Milan, son of Mića Stojanović who invented some of the classics of Serbian cuisine, such as Karađorđeva steak and Njeguški steak, and had been Tito's personal chef for many years. Milan uses his father's original recipes and this is the right place to try these dishes. Also you should try … well… everything… And if there is still room for dessert, try vanilla ice cream with hot wild berry sauce or orasnice (crescent shaped biscuits made of ground walnuts), the best in town. Out of Map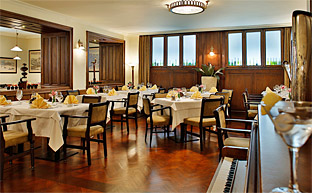 Klub književnika
A: Francuska 7, Tel: 2627-931. Open: Mon-Sun. 12-01. klubknjizevnika.rs. Following refurbishments, this once fabled Belgrade restaurant is again a place where you can be sure to enjoy your meal. Although it may have lost the magic of an "iconic" place, it still boasts one of the loveliest gardens in the central area and the opportunity to buy your favourite Serbian writer/actor a drink. Try breaded stuffed peppers, lamb roast and krempita (custard cream cake) with berries. Mapa I6

Byblos
A: Nebojšina 6 (entrance from the park),Tel:2441-938. byblos.rs. Open:Mon-Sun.12-24. Authentic Lebanese cuisine. Skilfully prepared food comes beautifully served in small portions and it might be a good idea to order several starters and mains and share them. However, if your appetite requires the amount of food typical of traditional Serbian restaurants, this will come heavy on your pocket. There are belly dance performers on some evenings, but you need to inquire at the restaurant about the schedule. A terrace overlooking a park is open in summer. Map I9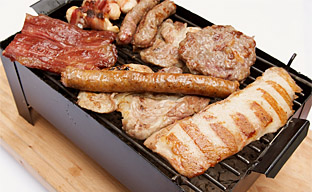 Lovac
A: Alekse Nenadovića 19 (corner with Njegoševa St.), Tel: 2436-128. restoranlovac.rs. Open: Mon-Sun. 9-24. The only restaurant in the urban core area where you can always order venison specialties. A pleasing setting, scrumptious grilled meats (a portion of mixed grilled for two is brought to the table on a small hot grill) and excellent service. Mapa I8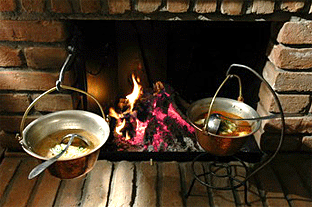 Salaš
A: Sinđelićeva 34 (Zemun), Tel: 2190-324, www.salas- gardos.com. Open: Mon-Sun. 13-23. Traditional dishes from the north of Serbia, in the ambiance of a farm house from Vojvodina. Portions are massive, meant to be savoured slowly, washed down with plenty of wine to balance the rich, oily fare. The service is suitably slow. Try guinea fowl soup, turkey with cherries, deer goulash or hunter-style quail, and finish it off with plum dumplings. A lovely walk through Gardoš will take you to Salaš. Map C1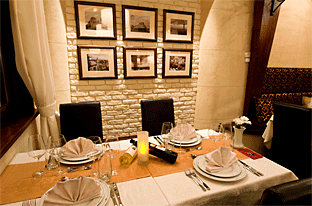 Sinđelić
A: corner of Vojislava Ilića and Gospodara Vučića St., Tel: 2412-297, restoransindjelic.rs. The old school of restaurant management, making no compromises with the quality of offer and service. The off-centre location should present no obstacle for a true gourmand. Elegant interior with lots of flowers. Try plum rakia, the "mature" one, steak tartare, or jagnjeća kapama (lamb stewed with dock and spring onions) served with thick yoghurt. Out of Map

Stara Hercegovina
A: Carigradska 36, Tel: 3245-856. Open: Mon-Sat 9- 24, Sun.10-19, starahercegovina.rs. A smoke-filled alehouse with plain interior and a colourful mix of diners. The air is thick with scents of fabulous comfort food that will cling to your clothes. In good weather, there are wooden tables and benches outside, overlooking a park. Do try grilled smoked pork ribs or pork knuckles and sauerkraut served with horseradish, and wash it down with draught beer. Map J6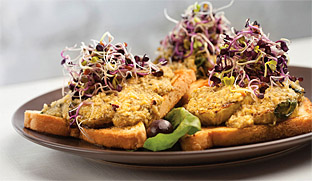 Gnezdo Organic
A: Male Stepenice 1a (Street Stairway next to Branko's Bridge, linking Karađorđeva and Kosančićev venac). Open: Tue-Sat. 13-23. gnezdoorganic.rs Tel: 060-7407-408. The first choice for those taking care of the origin of foodstuffs and disdaining mass-production. All dishes are made of carefully sourced and organic ingredients, be it chicken, veal, or vegetarian meals. There is a choice of salads and great freshly squeezed juices. Mapa G6

ABC
A: Ohridska bb (Zemun), Tel: 3166-816. Open: Tue- Sun. 8-24. An epicurean heaven. The menu is superb, but we suggest you put it aside and allow the Chef, who will come up in person to inquire about your gourmet preferences, to create a testing menu just for you. That way your taste buds will get to enjoy several dishes, such as beef fillet rolls with pumpkin seed sauce, duck breast with orange and prune sauce, pork fillet with caramel, truffle and green apple sauce, and four chocolate cake. It's located in an out-of-the-way part of Zemun, so better take a taxi. Map A1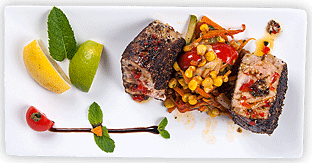 Žabar
A: Kej oslobođenja near Yugoslavia Hotel (Zemun), Tel: 3191-226, www.zabar.rs. Open: Mon-Sun An elegant, pricey restaurant on a river with a view of the Great War Island. Food is prepared and delivered with great care. The wine list is quite extensive, and if you are in doubt, there is a sommelier to help you with your choice. Try chicken soup with home-made noodles, ćuretina s mlincima (turkey breast baked with pasta tatters in rich cream and gorgonzola sauce) and Grandma Dara's cake. Mapa D4

Top 5 exclusive restaurants*
*booking required, favourite with business people, politicians and celebrities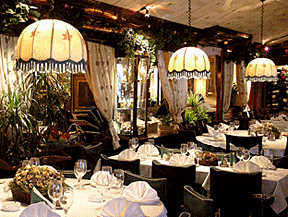 Franš
A: Bulevar oslobođenja 18a (Autokomanda), Tel: 2641-944, www.frans.rs. Open: Mon-Sat. 10-24.
International cuisine.
Madera
A: Bulevar Kralja Aleksandra 43, Tel: 3231-332, www.maderarestoran.com. Open: Mon-Sun. 10-01.
International cuisine.
The Square
A: Studentski trg 9, Tel: 3333-150, thesquare.rs. Open: Mon-Sun. 6-23. International cuisine.
Kalemegdanska terasa
A: Belgrade Fortress, Tel: 3283-011. Open: Mon- Sun. 12-01. International cuisine.
kalemegdanskaterasa.com
Diagonala
A: Skerlićeva 6, Tel: 2449-099, www.2tacka0.rs. Open: Mon-Sun. 12-24. Fusion.

Top 5 with great view
Caruso
A: Terazije 23 (Chamber of commerce, 8. floor), Tel: 3248-037, www.restorancaruso.com. Open: Mon- Sat. 8-24. International cuisine.
Rubin
A: Kneza Višeslava 29 (Košutnjak), Tel: 3510-987. Open: Mon-Sun. 12-23. Serbian cuisine.
Balkan Ekspres
A: Despota Đurđa 22 (Zemun, Gardoš), Tel: 2615-906. Open: Mon-Sun. 10-24. balkan-ekspres.rs. Italian and Serbian cuisine.
Comunale
A: Karađorđeva 2-4 (Beton hall), Tel: 3037-337. Open: Mon-Sun. 10-01. Italian cuisine.
Stara koliba
A: floating restaurant at Confluence of Sava and Danube River (New Belgrade); Tel: 3117-444. Open: Mon-Sun. 12-24. River fish and Seafood. starakoliba.rs

BEST Fish and SEAFOOD
Bevanda
A: Požarevačka 51 (Vračar), Tel: 2447-446. Open: Mon-Sun. 12-24. Feast from the sea: fresh, premium class sea fish and shellfish prepared in traditional Dalmatian style, caviar and oysters. Be sure to try their Buzara and baked octopus and potato. Good house wine, pleasant atmosphere and excellent service. Map K9
Gušti mora
A: Radnička 27 (near entrance to Ada Ciganlija, better take a taxi), Tel: 3551-268. Open: Mon-Sun. 12-24. Fresh, premium class sea fish and shellfish prepared in traditional Montenegrin style. Ask for fish from Adriatic Sea and Prstaci.
Šaran
A: Kej oslobođenja 53 (Zemun Quay), Tel: 2618-235, www.saran.co.rs. Open: Mon-Sun 9-01. One of the oldest restaurants in Zemun. There is a pleasing terrace and a band playing traditional urban folk. The menu features river fish and meat dishes. Try some of the local specialties: fish soup and carp fillets with caramelised onions and prunes. Mapa C1
Konoba kod Goce i Renata
A: Left bank of the Danube, under Pančevo Bridge (better take a taxi), Tel: 063/7747-791. Open: Mon-Sun. 10-24. It's best to visit this restaurant in summer, because of its large terrace perched on the very bank of the Danube, where fishermen dock to sell their catch. There is also a playground for children. The menu expectedly features mostly fresh river fish and salads. Try smuđ na žaru (grilled zander, a fish related to perch). Map L4


Skadarlija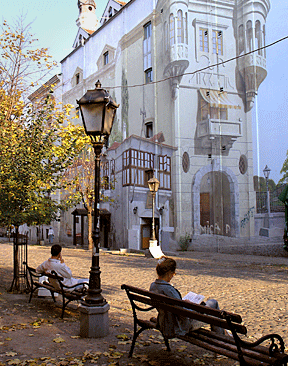 Once the centre of bohemian life in Belgrade, Skadarlija encompasses Skadarska Street and its neighbourhood. In the letter half of the 19th century, it became the hub of artistic movement and the favourite haunt of writers, journalists, and artists. The hubs of art and culture in Belgrade have moved elsewhere, and Skadarlija is nowadays a popular tourist attraction and a place that holds a special appeal for expatriate Belgraders. This cobbled street is lined with kafanas, some of them dating from the 19th century, where live bands play urban folk music. The food here is expectedly not the best that you can find in Belgrade, but is quite decent, and it's worth visiting one of these kafanas:
Dva jelena (Skadarska 32, Tel: 7234-885. Open: Mon-Sun. 11-01. Open since 1867. Margaret Thatcher visited here a few times), Tri šešira (Skadarska 29, Tel: 3247-501. Open: Mon-Sun. 11-01. Open since 1864. Famous guests include Jimi Hendrix, Willy Brandt, Henry Kissinger... ), Ima dana (Skadarska 38, Tel: 3234-422. Open: Mon- Sun.11-01. Open since 1968, visited by Pelé, King Juan Carlos of Spain, Larry Bird...).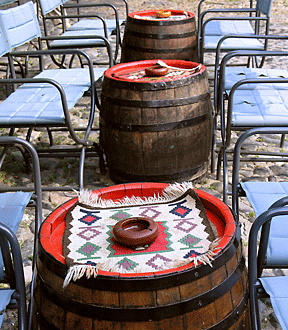 Šešir moj (Skadarska 21, Tel: 3228-750. Open: Mon-Sun. 9-01. Open since 1991, recognisable by the outdoor patio full of flowers and good musicians. Famous guests include José Carreras, Catherine Deneuve, Orhan Pamuk...).
Belgrade syndicate in Skadarlija




Fast Food
Čobanov odmor
A: Vojvode Šupljikca 34, Tel: 2450-947. Open: Mon- Sun. 7-02. Fast food Serbian style: komplet lepinja, roast meat, tobacco cracklings, pihtije, veal soup, bean soup...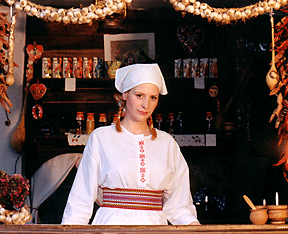 La Petite Cantine
A: Dobračina 19, Tel: 063/1902-761. Open: Mon-Sat. 8:30-18:00. French Croissant, Brioche au chocolat, Baguette Sandwich, Onion soup...
Gvero
A: corner of Omladinskih brigada and Milutina Milankovića St., Tel: 2163-135. Open: Mon-Sat. 8- 22:30. Wide choice of grilled meat.
Loki
A: Gospodar Jovanova 27. Open: Mon-Sun. 0-24.
Wide choice of grilled meat.
Solunac
A: Terazije 36, Tel: 3626-202. Open: Mon-Sun. 0- 24. Greek Gyros.
Šiš ćevap
A: Goce Delčeva 27, New Belgrade. Tel: 3195-507. Open: Mon-Sun. 0-24. Wide choice of grilled meat.
Tel Aviv Hummus House
A: Carice Milice 3, Tel: 069/2632-223. Open: Mon-Sat. 0-24. Hummus and Falafel.

Čeda Bakery
A: Mutapova 65 (near Kalenić green market). The best burek in town! They pretty much sell only burek and yogurt. Open: Mon-Sun. 7-13.